Two Masters of Subtlety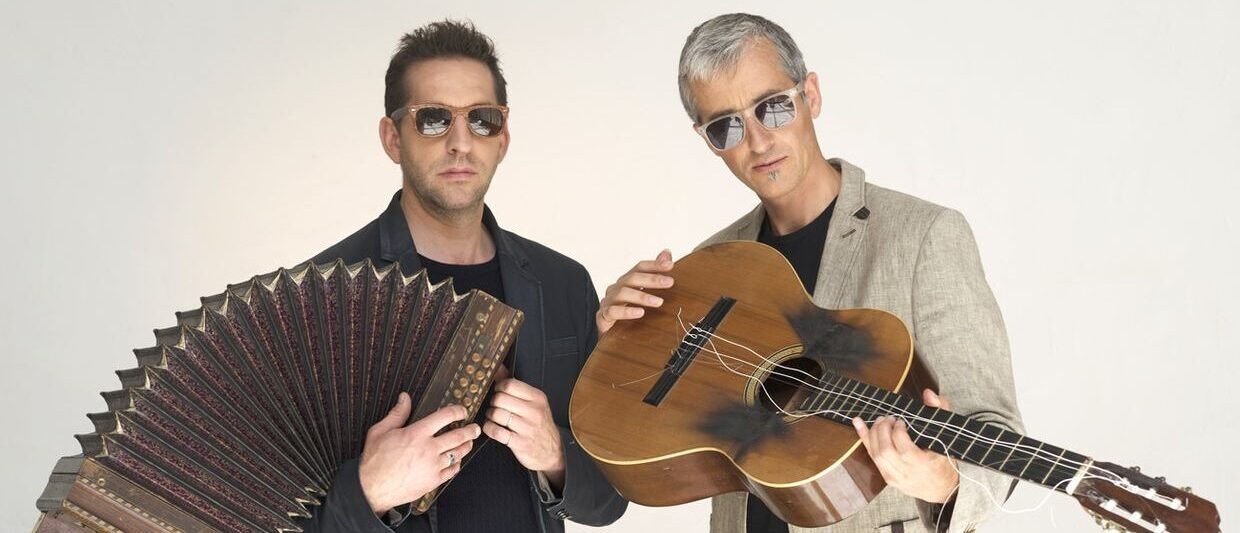 CultureWorks Artist 2020-2022
This artist profile is not updated any more.
Single bookings possible on request.
Live
New shows coming soon!
About
Two distinguished and internationally renowned figures of the Belgian musical scene have joined forces for an exciting new project: Didier Laloy (accordion) and Quentin Dujardin (guitar) present their first common album Water & Fire.
The original compositions defy rigid genre definitions and range somewhere between jazz, classical, folk and film music. A dialogue between water and fire, born during a serious of work residencies in the Belgian studio of Agua Music, an intense musical moment where space and time come to a standstill and allow the adventure of a common hand.
Two at first sight rather contrary characters have started to search for a possibile understanding between hot and cold, taking the risk of connecting two different conceps of musical approach. Romanesque encounters Baroque and results in a wonderfully melodic and vivid album. These two artists perfectly complement each other – expressivity blends with intensity and offers us fiery and at the same time glacial sound emotions.
Water & Fire represents a return to the discographic origins of the two leaders: "We believe in this eternal moment of creation. What immense joy to share our music! The most important remain our personal enrichment and the freedom each of us gains by taking risks, for which this project is a wonderful example."
---
Tour Line Up
DUO Quentin Dujardin (guitar) & Didier Laloy (diatonic accordion)
TRIO Duo plus Adrien Tyberghein (double bass)
QUARTETT Trio plus Nicolas Fiszman (bass)
---
Press
"A highly anticipated album celebrating the wedding of fire and water."
Paris Match, FR

"These artists remain masters in the art of subtlety." Jazz Enzo, NL

"An album full of crazy harmony." Le Soir, BE

"The eleven poetic tracks of this album are as many seasonal and atmospheric walks. It is beautiful and meaningful." Jazz Rhone Alpes, FR