The mad dog meets the nobility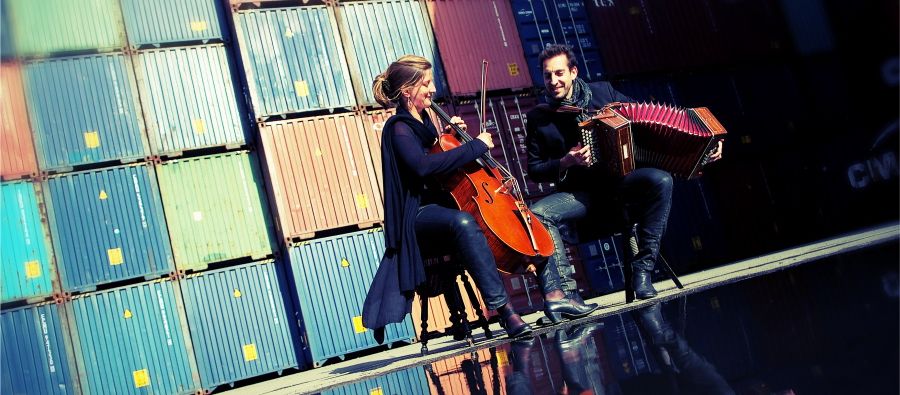 CultureWorks Artist 2009-2020
This artist profile is not updated any more.
Live
New shows coming soon!
About
Didier Laloy and Kathy Adam form an atypical duo featuring diatonic accordion and cello. They are both brilliant musicians in their own right. They have travelled through Europe with the group 'Panta Rhei', and shared the stage on many other occasions including Didier's own projects "Didier Laloy Invites", [Pô-Z]s, Noir's and Nonsens. Although we had to wait for 23 years before a direct collaboration emerged, it was well worth the wait.
For decades, they've been thinking about experimenting with chamber music, without neglecting the expressive side. Today they provide an anthology of compositions, at the crossroads of their experiences. A strong but simple music, subtle and surprising, where silence, dynamics and the most elegant and crazy rhythms intersect. Musical images collide, and lead you on a musical journey and unique experience. Gentle and daring duo, result of a long-awaited meeting between two wonderful artists.
Laloy is considered as one of the most active representatives of the diatonic accordion revival in Europe. His easy and humorous onstage manner, his ability to tackle almost any musical genre from world to chanson, from contemporary music to projects for children, the subtlety of his playing and his never ending energy and enthusiasm have made him a highly sought after and appreciated musician in the contemporary Belgian musical scene. He was also a member of the transeuropean accordion collective The Samurai.
Kathy Adam studied cello and chamber music in Brussels and has been performing for over 20 years. In addtion to her life as a classical musician she regularly works with world music artists and theater and dance productions.
---
Didier Laloy's Current Projects
Duo Didier Laloy (acc) & Quentin Dujardin (guit)
Belem & The MeKanics (Didier Laloy & Kathy Adam and a mechanical orchestra)
Belem (Didier Laloy & Kathy Adam)
Belem & Ensemble Quartz (Didier Laloy & Kathy Adam & wind quartet)
Belem & Slang (Didier Laloy & Kathy Adam & jazz trio)
Belem & Barbara Fortuna (Didier Laloy & Kathy Adam & Corsican voices)
Noir's (Quartett acc – cello – guit – perc, concert in the dark)
Duo Didier Laloy (acc) & Tuur Florizoone (acc)
Didier Laloy's Cameleon Tribe (flexible format from trio to quartet)
---
Discography
2019 Water and Fire / Didier Laloy & Quentin Dujardin (Agua Music)
2017 Belem & The MeKanics (Igloo Records)
2014 Belem Didier Laloy & Kathy Adam (Homerecords.be)
2012 Didier Laloy & Tuur Florizoone (Aventura Musica)
2011 Noir's (Wild Boar Music)
2009 Milann&Laloy " La Marquise"
2008 Didier Laloy PôZ's
2005 CD/DVD Didier Laloy "Invite…s"
2003 Didier Laloy "S-Tres/Version Originale"
---
Press
"Fanstastic world chamber music from Belgium. ORF Ö1, A, 2015
"On the duo album you can only hear the two musicians. But at no moment the purely instrumental music sounds thin or sketchy. On the contrary, the sound is powerful like a small folk orchestra. Special compliment to producer Michel van Achter."
Folker, D, 2015
What did we hear? Jazz, folk, contemporary music, world music? Or just simply good music in the best sense of the word?"
Mitteldeutsche Zeitung, D, 2011
"His musical expression resembles a rough diamond… Loneliness, the dark and profound abyss, but also desire and charm are recurring elements in all his projects. And during his concerts he seems in league with love just as well as with the devil…"
Concerto, A, 2011
"The wild body language of a rock musician with the grace of a primaballerina in slowmotion."
De Volkskrant, NL, 2009