Portugal's Grande Dame of Vocal Acrobacy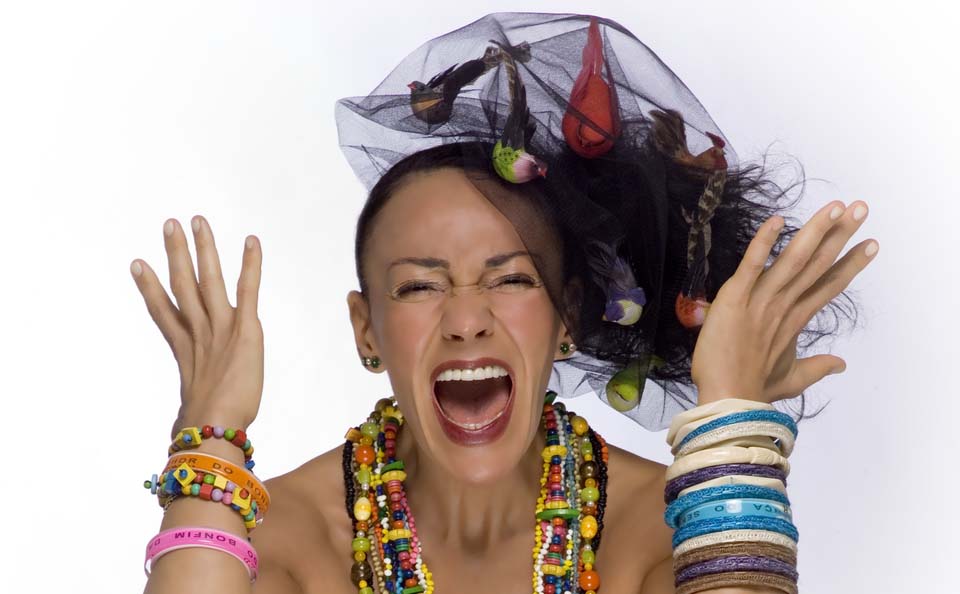 CultureWorks Artist 2014-2017
This artist profile is no longer updated.
Single bookings possible on request.
About
It is difficult to find a category for Portuguese singer Maria Joao as with each of her projects she enters new artistic territories. Avantgarde, modern jazz, Latinamerican music, Portuguese folclore – Maria Joao plays with the most different genres and embraces them through her personal style of interpretation. She presents her songs as mini dramas full of grace and explosive passion, accompanied by dramatic body language, gestures and dancing steps. The infinite range of her voice oscillates between all colours and intensities, jubilating and whispering in fascinating poignancy.
For more than 25 years she has been regularly working together with pianist Mário Laginha, together they have released dozens of CDs and given hundreds of concerts all over the world. Clearly influenced by jazz Joao and Mário's art incorporates influences from other musical universes (Portuguese popular music, Brazilian, African, classical). The music they play is set by a mixture of formal discipline, creativity, intuition, complicity and technical competence.
Apart from her work with Mario Laginha, Maria João has shared the stage with numerous great Portuguese and international (jazz) names such as e.g. António Pinho Vargas, Carlos Bica, Gilberto Gil, Joe Zawinul, Laureen Newton, Miroslav Vitous, Charlie Mariano, Aki Takase, Niels Henning. With her new project OGRE she has recently started to explore the relation between jazz, pop and electronic sounds; a new album with Shakespeare's sonnets will be released in 2017. And on MAR AFORA, Maria's brand new duo project with Brazilian guitarist and composer Guinga, she devotes herself to her love to MPB, Música Popular Brasileira.
---
Current Projects
Guinga & Maria João (duo guitar & vocals)
Maria Joao OGRE (trio or quintet, vocals & electronics)
Maria Joao & Mario Laginha Iridescente (quartet)
Maria Joao & Mario Laginha (duo voice & piano)
---
Discography
2015 Mar Afora, Guinga & Maria João
2014 Plástico, Maria Joao OGRE
2012 Iridescente, Maria Joao & Mário Laginha
2012 Electrodoméstico, Maria Joao OGRE
2011 Amoras e Framboesas
2010 Follow the Songlines, Maria Joao & David Linx & Mário Laginha
2008 Maria Joao & Mário Laginha
2007 Joo
2004 Tralha, Maria Joao & Mário Laginha
2002 Undercovers
2001 Mumadj
2000 Chorinho Feliz, Maria Joao & Mário Laginha
1999 Lobos, Rabosas e Coiotes, Maria Joao & Mário Laginha
1998 Cor, Maria Joao & Mário Laginha
1996 Fábula
1994 Dancas, Maria Joao & Mário Laginha
1992 Sol
1992 Alice
1989 Looking for Love, Maria Joao & Aki Takase
1986 Conversa
1985 Cem Caminhos
1983 Quinteto Maria Joao
---
Press
"Who knows if this performance by Maria João's OGRE trio wasn't the pièce de résistance of this year….The divine Maria João knocked out the public of the 4th Katowice JazzArt Festival."
http://artrock.pl/ PL, 2014
The electrifying stage presence of Maria Joao fascinated the audience from the first to the last minute. The phenomenous range of her voice from very deep to very high and her overwhelming improvisational skill make the big difference. She switches from the oriental sound of an arab singer to the voice of an old Candomblé priest – a simply breathtaking performance".
Rolling Stone Brasil, 2012
"Vocal acrobat Maria Joao transported her audience to a fantasy world. Sparkling with ideas, she sang lively like a child, sensually like a woman, deep like a man, continuously changed her roles, conducted imaginary dialogues using her eyes, arms and the whole body. Charming, profound and marvelously funny".
Göttinger Tagblatt, Magazin, D, 2012
"The great consolation of this experience for me was the beauty of Joao's voice. Her range is extraordinary, in terms of both dynamics and tone, and her improvisational exuberance promises to break all conceivable boundaries, of musical genre, identity and perhaps even the known laws of the physical universe".
Tromsoby, N, 2012