The Ultimate Squeezebox Experience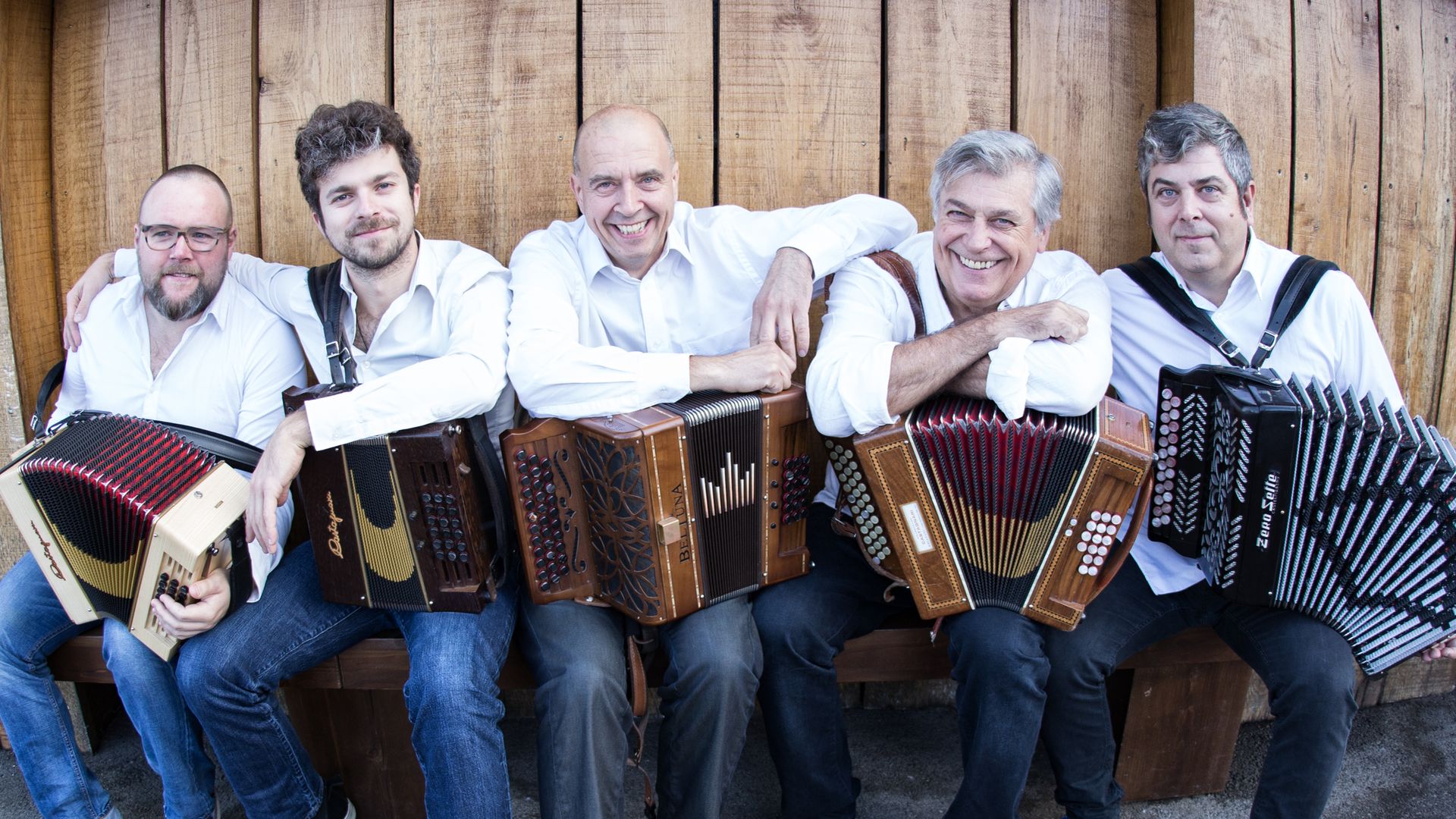 CultureWorks Artist 2013-2020
This artist profile is no longer updated.
Single bookings possible on request.
Live
New shows coming soon!
About
The name Samuraï is no coincidence, nor is TÉ or 手 (Japanese for hand) as an album title. It is a look at ancestral Japan, at our collective imagination. The Samurai was a noble warrior at the service of a cause, as these 5 magnificent musicians are, at the service of the accordion, in order to give it all its letters of nobility. It is necessary to be body and soul at the service of the instrument to reach this level of virtuosity, finesse and musicality. These five have done so and this new opus shows us how the breath produced by such hands is clever, stealthy, fine, expressive, contemporary and traditional, strong, powerful, always in the right place, surprising…. Quite an art… The Samurai in Japan was a master in the art of warfare, our Samurai are masters in the art of music, a sacred battle!
This fabulous talent-studded programme – with some slight line up changes since their first album – includes no less than four of the most dazzling exponents of the squeezebox in Europe. They have all made a huge contribution to advancing the cause of the diatonic accordion, each in their own sphere: Riccardo Tesi from Tuscnay is the grey eminence of the new Italian musica popolare. He represents the rise of Italian folklore in the seventies, whereas Simone Botasso is one the most important exponents of the young contemporary Italian scene. Markku Lepistö belongs to the most renowned virtuosos of Finnish folk music and teaches at Sibelius Academy in Helsinki, and Irish grandee David Munelly has toured around the world with the most important groups of more or less traditional Irish music.
In common with the characters pervading the imaginary universe of the Japanese, these players have succeeded in combining a variety of styles to create a bold and expressive musical experience. Ingeniously melodic, brilliantly tonal, an invitation to savour an intimate atmosphere or relish a session of wild dancing: these musicians with an impressive list of credentials offer us a spectacular and extremely beguiling event.
---
Line up from 2017
Simone Bottasso (Italy)
Markku Lepistö (Finland)
David Munnelly (Ireland)
Riccardo Tesi (Italy)
---
Discography
2017 TÉ, Visage Music/Galileo MC
2011 Accordion Samurai, Homerecords.be
---
Awards
2011 Grand Prix International du Disque de l'Académie Charles Cros, Paris (F)
2012 Octaves de la Musique, Brussels (B)
---
Press
There are only five, not seven, accordion Samurai; they are, however, maginificent.
Songlines, UK

"As you might expect there is some wonderfully sparkling virtuoso playing, but the frequent change of tempo, timbre and mood help to maintain interest."
fRoots, UK

'"TE' combines a variety of styles to create an inclusive and engaging aural experience that fluctuates between reflective and robust, and ranges from lushly melodic and tonal to wheezily rhythmic.
Tony Hillier on the Australian Press