Orchestravagante Corsica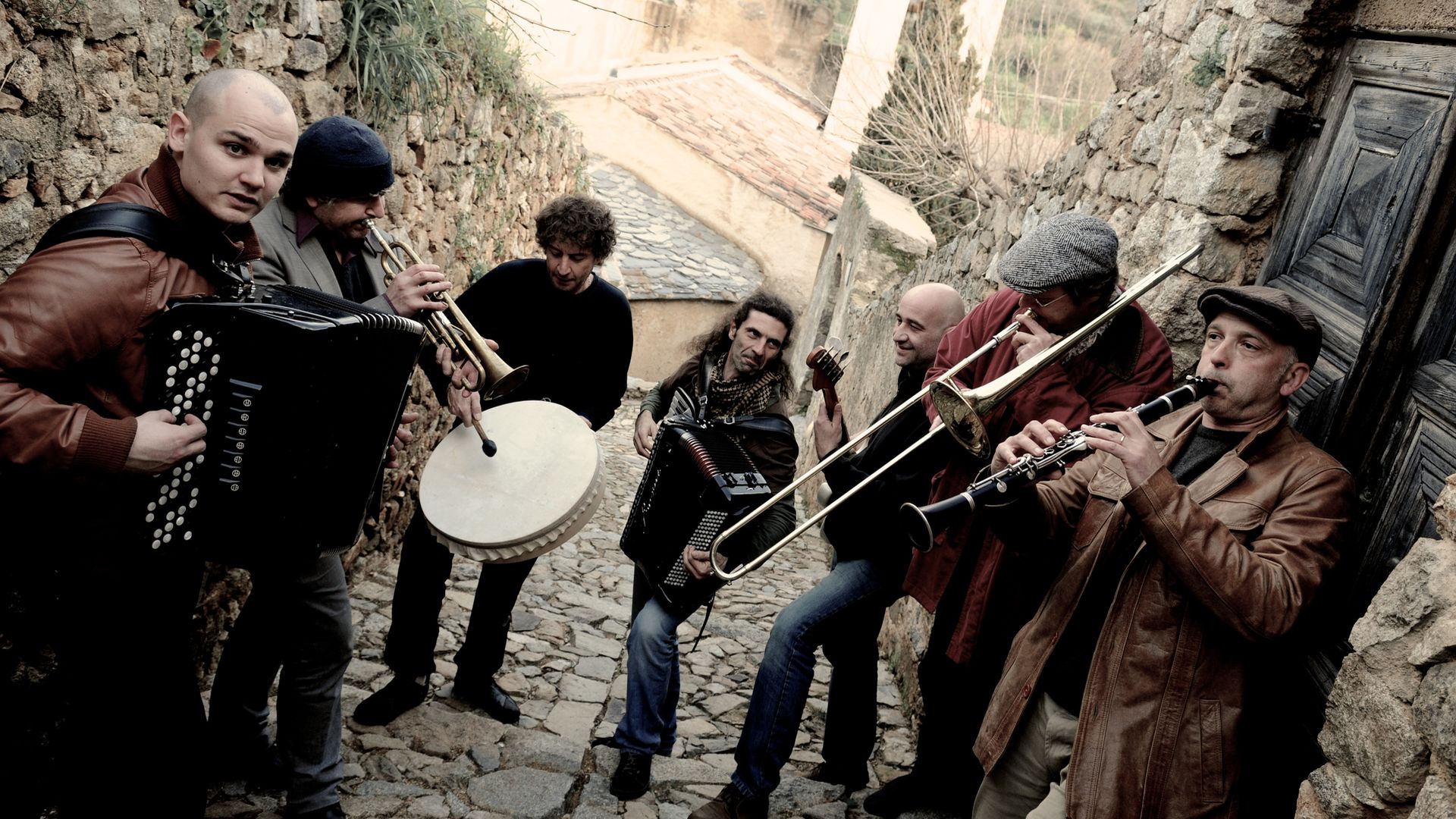 Live
New shows coming soon!
About
Zamballarana hail from Pigna, a little Corsican village and cultural hub in the Northwest of the wild and mysterious Island of Beauty: In 1996 musician and stage designer Jérome Casalonga founded the group in the Casa Musicale, a legendary cradle of creation and artistic exchange. In Corsican La Zamballarana is a slightly frivolous and unconventional woman – it is in this sense that the band makes the words and sounds of Corsican music dance. The sea is the origin of their Latin roots but also their way of inspiration in their encounters with the different cultures of the world. Like jugglers these singers and musicians explore their own original mixtures, invent and weave new sound colours and juggle with styles, thus widening the field of our imagination.
The blend of archaic male polyphony with elements of jazz, oriental and latin music as well as the innovative way of playing traditional Corsican instruments such as the 16-string Cetrea, the drum Colombu and the flute Pivana result in a hot and danceable mix of styles which raises the unique Corsican musical tradition to global standards.
---
Line Up
Jérôme Casalonga – composition, vocals, sax, clarinet
Laurent Barbolosi – violin, trumpet, vocals
Jérémy Lohier – accordion, vocals
Marco Tindiglia – guitar
Ricardo Barbera – bass
Francesco Petreni – drums
---
Discography
2012 Carnavale (Casa Editions)
2007 Camina (Casa Editions)
2004 Luna (Casa Editions)
1999 Lucia (Casa Editions)
1997 Zamballarana (Casa Editions)
---
Press
"The great thing about the music of Zamballarana is that it is really authentic, delving into their region's folk roots, and using it as a point of departure."
Ruben Zahra, musical director Ghanafest, Malta

"That's a really good group from Corsica …. a really beautiful group."
Elvis Costello, British musician
"Fresh and strong emotions!"
Le Monde de la Musique, FR

"This music is profane without pathos, fresh and full of enthusiasm. Bravo!"
Trad Magazine, FR