Four magical accordions from the edge of Europe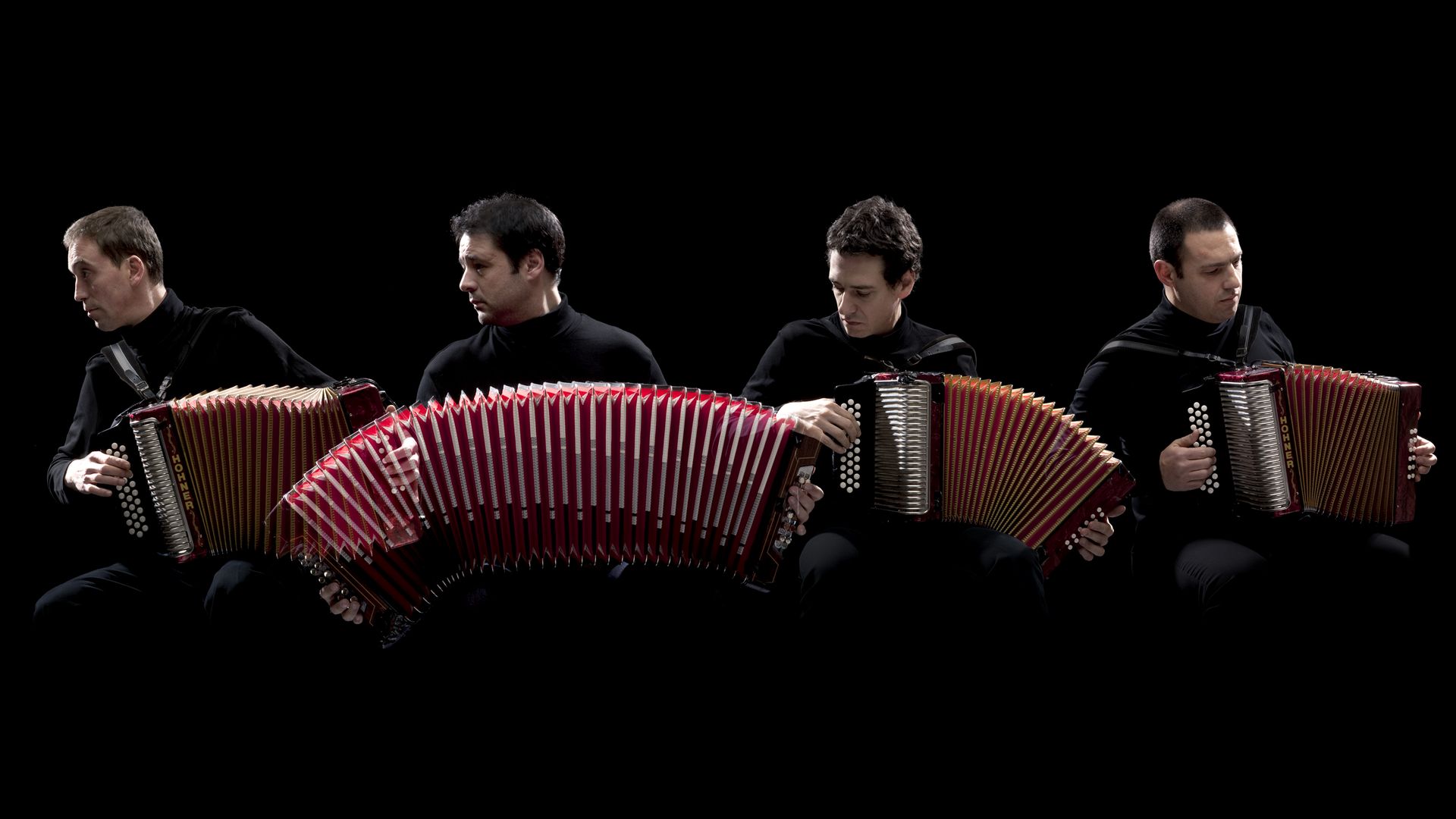 Live
New shows coming soon!
About
Danças Ocultas are four accordionsts from Agueda near Porto who are among the most innovative and most exciting representatives of contemporary Portuguese music. For some years now they have been rising on the international music scene – with an apparently very simple concept: tranquil, lyrical, more or less traditional, with only four diatonic accordions.
The quartet's name, Hidden Dances, has nothing to do with mysterious domains but means that Dancas Ocultas play music for dances that have yet to be invented. Famous Fado plays a minor role, the band's inspiration comes rather from traditional village music, Tango Nuevo and the chamber music exemplified by the Russian Terem Quartet. They neither indulge in virtuosity competitions, nor do they play pure folk music. "Impressionist Folk" is maybe the best label for this timeless art music: minimalist, profound sound paintings full of unexpected turns and noble melancholy. Very special music – impossible to escape its magnetism.
One of the first supporters of Danças Ocultas was Gabriel Gomes, the accordionist of Portugal's most famous world music band Madredeus. He encouraged them to explore their own sound worlds. Their collaboration with choreographer Paulo Ribeiro and the Gulbenkian Ballet, regular appearances at international festivals and a highly acclaimed showcase at Womex 2010 have resulted in wide international recognition far beyond the Portuguese borders.

Over the past few years the quatuor have started successful collaborations with other artists: The fruitful encounter with young Brazilian singer and cellist Dom la Nena resulted in the EP Arco as well as joint concerts and tours in Portugal and abroad, and in 2015 the band's 25th stage anniversary was celebrated with numerous performances together with Orquestra Filarmonia das Beiras and the critically acclaimed album Amplitude. 2015 was also the year of Dancas Oculta's first tour in China, and after a successful showcase at the 2016 Rideau trade fair the quatuor embarked on their first Canadian tour in 2018. And in October 2018 Dancas Ocultas presented their new work which this time opens up to musical influences from across the Atlantic: dentro desse mar was recorded in Rio de Janeiro and coproduced by world renowned Brazilian cellist and arranger Jaques Morelenbaum.
---
Line up
Artur Fernandes – diatonic accordion
Francisco Miguel – diatonic accordion
Filipe Cal – diatonic accordion
Filipe Ricardo – diatonic accordion
---
Current Projects
Danças Ocultas (accordion quatuor)
Arco Danças Ocultas feat. Dom la Nena
Amplitude Danças Ocultas with orchestra (possible collaboration with local orchestras)
---
Discography
2018 Dentro desse Mar (Sony/Galileo Music)
2016 Amplitude (Uguru/Sony/Galielo Music)
2014 Arco (EP Uguru)
2011 Alento (iplay / Galileo MC)
2009 Tarab (Numerica)
2004 Pulsar (Magic Music)
2002 Travessa da Espera (L'Empreinte Digitale)
1998 Ar (EMI VC)
1996 Dancas Ocultas (EMI VC)
---
Press
"Music from the edge of Europe which opens your heart!"
Bayerischer Rundfunk, Susanne Schmerda on Dentro Desse Mar, DE

"One of the most unique projects you can find in portuguese music today."
Miguel Marujo in Diário de Notícias on Dentro desse Mar, PT

"The result is a beautiful set of instrumentals and songs where Portuguese folk music influences are interweaved with classical and jazz elements."
World Music Central, Angel Romero on Amplitude, US

"Danças Ocultas have managed to leave the circuit of mere accordion lovers and to perform on big stages, which is best proved by Amplitude."
JazzThing, DE

"Amplitude is a powerful album that opens your heart."
Sound&Image, DE

"It was less of a concert but much more a musical lecture, a collective
breathing that you're being part of and that you're carried away with, in an emotional, meditative dimension".
Il Giornale di Vicenza, IT

"You walk into the darkened main concert hall and suddenly, all that falls away, there are four men on stage, and they are creating a space where you can relax, breath and luxuriate in beautiful sounds.""
Michal Shapiro on The Huffington Post, USA

"Inventive and creative instrumental music by one of Europe's best art music ensembles. Highly recommended!"
CD Roots