Squeezebox Gaúcho with Passion and Flair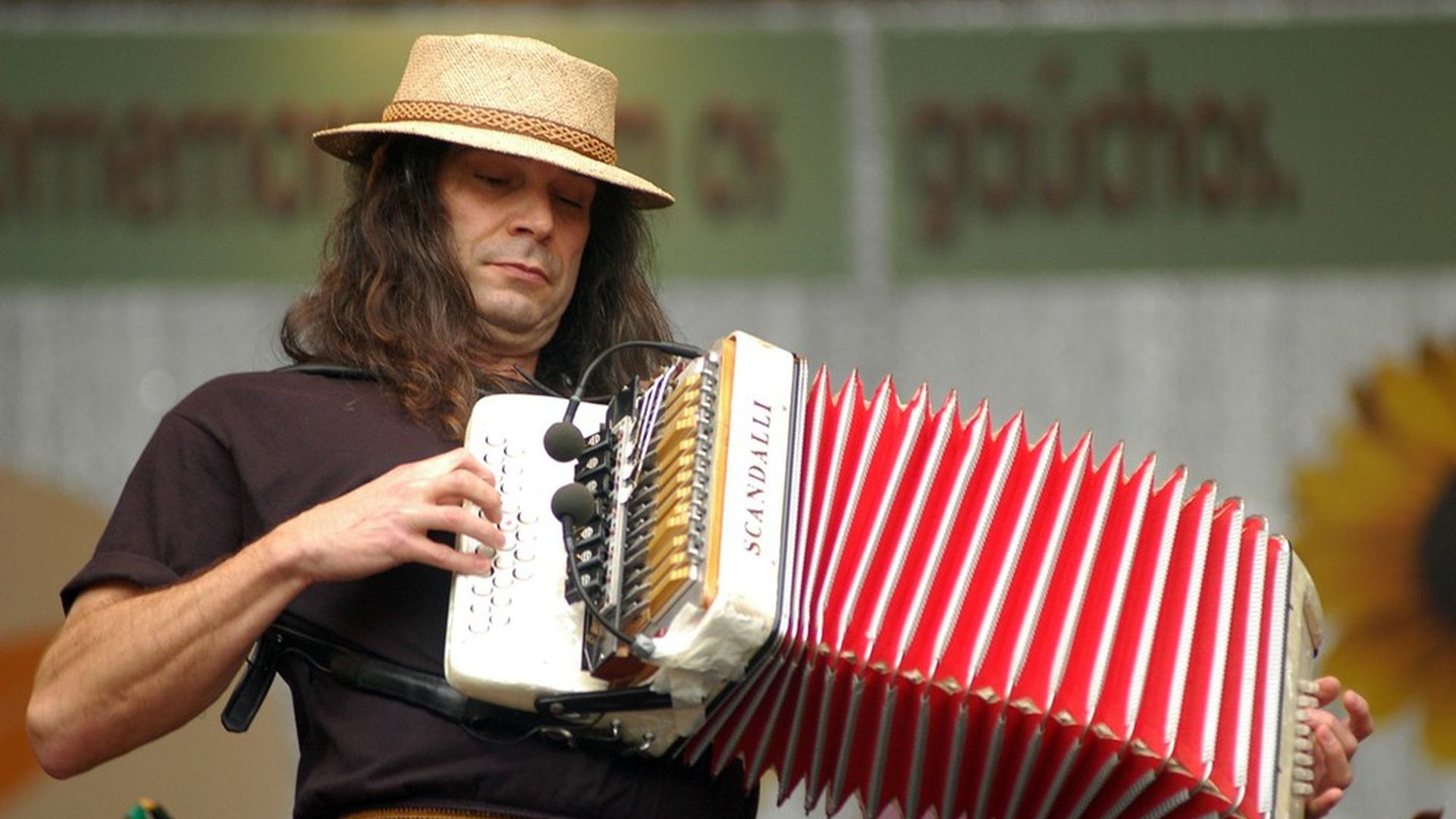 Live
New shows coming soon!
About
Ecstasy, humour and first rate virtuosity: Accordion wizard Renato Borghetti is the superstar among the nu folk musicians from Rio Grande do Sul in Southern Brazil. The charismatic gaucho has revised, adapted and modernized many of the native sounds of his home country. His shows are unforgettable live events, offering a sparkling and elegant mix of traditional forms such as Milonga, Chacacera and Chamamé with elements of Jazz, Tango and chamber music, adapting each of those forms to his unique style of accordion playing.
"Borghettinho", as his fans like to call him, has been recording cds since the beginning of the 80ies. He has shared the stage with big names such as Dominguinhos, Sivuca, Stephane Grapelli, Ron Carter and Hermeto Pascoal and is the first Brazilian musician to achieve a golden record with purely instrumental music. His direct and playful style slightly reminds of the feeling of Zydeco and Cajun in Luisiana which combines European and African elements in a similar way. And in spite of all experiments Renato Borghetti remains 100% Gaúcho – with long hair, hat and wide riding breeches.
And he is one of the very few musicians from Southern Brazil who are regularly performing in Europe. "Andanças. Live in Brussels", Renato's first and long expected live album, was released in 2011 and represents something like a resume of 10 years touring in Europe – a time of investiganting the musician's own roots, discovering new ways of musical expression and makiong a lot of new friends. Borghetti is also actively securing the future of his instrument back home in Southern Brazil: at the end of 2010 the first diatonic accordion branded "Borghetti" left the recently founded "Fabrica de Gaiteiros" near Renato's ranch – a project initiated not only to produce instruments but also to organize accordion courses for underpriviledged children and young people. It was precisely here, at the "Factory of Accordionists", that he recorded his latest album Gaita na Fábrica – Sounds from the Squezebox Factory, which was presented on an extensive European release tour in autumn 2016.
BorghettiYamandu, a documentary by Estação Eletrica on Renato's duo project with Brazilian guitar virtuoso Yamandu Costa, was released on DVD and CD in 2017 and nominated for a Grammy Latino in 2018. The European live première of this stunning duo happened at Wiener Konzerthaus in October 2019.
---
Line up quartet
Renato Borghetti – diatonic button accordion
Daniel Sá – guitar
Vitor Peixoto – piano
Pedro Figueiredo – saxophone, flute
---
Current Projects
Duo Renato Borghetti (acc) & Yamandu Costa (guit)
Renato Borghetti Quarteto (acc – sax/flute – guit – piano)
Renato Borghetti Quarteto Meets Gabriele Mirabassi (cl)
---
Discography (selected)
2016 Gaita na Fábrica. Sounds from the Squeezebox Factory. (Saphrane Records)
2011 Andanças. Live in Brussels. (Saphrane Records)
2009 Fandango! (Felmay fy 8147)
2005 Gauchos (Quinton Records Q-0501-2)
2002 Paixao no Peito (Som Livre/RBS Discos)
1999 Ao Ritmo de Tio Bilia
1998 Gauderiando (Atracao)
1996 Gaúcho (RGE)
1995 As 20 Melhores de Renato Borghetti (RGE)
1994 Accordionist (Prestige Records)
---
DVDs
2017 Borghetti Yamandu (Estação Eletrica)
2016 Gaita na Fábrica (Estação Eletrica)
2012 Renato Borghetti Quarteto Europa (Estaçao Eletrica)
2008 Fandango! (Estaçao Eletrica)
2005 Renato Borghetti Quarteto Ao Vivo No Tatro Sao Pedro
---
Awards
2018 Borghetti Yamandu (Estação Eletrica), CD&DVD, nominated for a Grammy Latino
2011 Andanças, best CD of the year of the Dutch newspaper Het Parool, selected among the best CDs of the year 2011 on All About Jazz Italia
2009 Womex Showcase in Copenhagen
2008 Fandango!, CD&DVD, Premio Açorianos as best CD&DVD of the year, nominated for a Grammy Latino
2005 Gauchos, CD, nominated for Preis der Deutschen Schallplattenkritik
2005 Gaitaponto.com, CD, nominated for a Grammy Latino
---
Press
"An inimitable Brazilian feeling comes through – a certain languor and naturalness in the rhythms and relationships… Borghetti's folk has an expansive register and emotional range and is a perfect introduction to a sound as removed from the world music radar as its heartland is off the tourist map."
Songlines (UK) on Andanças

"The sound quality is wonderfully transparent, you can almost physically feel the presence of the audience, and the guys are playing mind-blowing solos. Prozac? Light therapy? No need for all of this: With their music, Borghetti and his musicians do really chase winter depression away through the front door."
Het Parool (NL) on Andanças

"Who has not seen on stage this accordionist and wonderful communicator with the attitude of a flamenco dancer, does not know what are joy and improvisation!"
Musibrasil (IT)

"Mozart would have enjoyed it a lot!"
Wiener Zeitung, Vienna (AT)

"With Borghetti the Gaúcho tradition of Vanerão, Rancheira and Milonga turns into elegance and finesse. With his long hair and hat he appears like a popstar – but above all he is a brilliant virtuoso on his button accordion, impulsive and dynamic. And in certain moments his body seems to be inhabited by Piazzolla's spirit."
Musicas sem Fronteiras – Cronicas da Terra (PT)

"Borghetti does to Gaúcho music what Piazzolla did to Tango."
Jazzthetik on "Gauchos" (DE)