Black Atlantic Music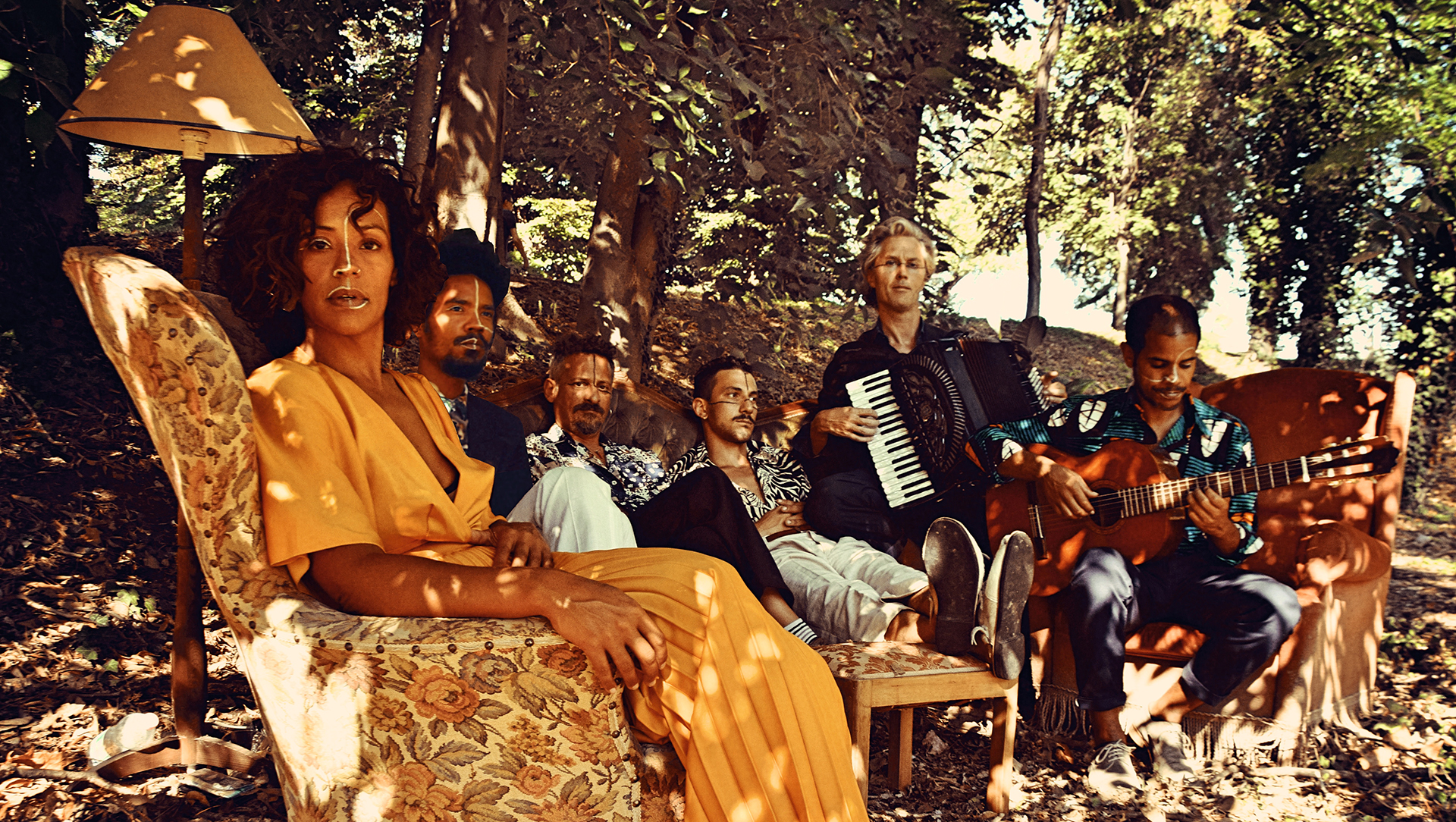 Upcoming Shows
01/12/23
Konzerthaus
Vienna
Austria
02/12/23
Greith-Haus
St. Ulrich im Greith
Austria
04/05/24
Odeon
Göppingen
Germany
05/05/24
Pfleghof
Langenau
Germany
About
Rooted in Afro-Brazilian music, at the same time cosmopolitan, virtuosic, witty and warm-hearted: this is the fascinating four-nation sextet around the charismatic Brazilian singer Jabu Morales and the Italian accordionist Alberto Becucci, which was named best band of 2021 by the British trade magazine Songlines.
Migration, freedom and poetry: Ayom are musical seafarers who cross the Black Atlantic from Brazil to Angola and Cape Verde while retaining a distinct Mediterranean identity. Their music is a mixture of Brazilian, tropical, Afrolatin and Afrolusitanian sounds, played with irresistible swing. A tropical sun that penetrates grey clouds.
The band name Ayom refers to the "Lord of Music" that in Afro-Brazilian mythology (Candomblè) lives in the drum and taught humans how to make music and sing. Ayom combine century old traditions with the black and rhythmic language of Lusophone cultures and take their audience on a hot-stepping, spiritual voyage across the African diaspora.
They celebrate their nomadic, profound, provocative and danceable musicality, peacefully mixing tradition and modernity, masculine and feminine, poetry and energy, joie de vivre and political statement.
---
Line Up
Jabu Morales – vocals, percussion
Alberto Becucci – accordion
Timoteo Grignani – percussion
Walter Martins – percussion
Ricardo Quinteira – guitar
Francesco Valente – bass
---
Awards
2021 Songlines Music Award Best Band
2021 Songlines Nomination Best 10 groups 2021
2021 Best Album World Music Preis der Deutschen Schallplattenkritik
2021 Transglobal world music chart #29 January
2020 Top of the world 10 Albums Songlines
2020 Top 15 world music albums Spin the Globe

---
Press
"The band Ayom sound as if they had been cultivating their Brazil-Cape Verde-Mediterranean mix for years. Yet the Brazilian singer Jabu Morales only met the Forró Quartet from Italy almost two years ago. The variety of rhythms used is overwhelming: merengue, samba, cumbia, calypso, tarantella, polka…. that could go wrong! But it succeeds extremely well, is infectiously cheerful, light-footed and airy. A compact rhythm section, a multi-faceted accordion, a radiant lead voice, a well-balanced production, and there you have the good-mood album of the season."
Jodok Kobelt, Preis der Deutschen Schallplattenkritik

"Every minute of this album is a surprise. If this band sounds this good live, they're really going to hit it out of the park on the post-pandemic tour… Their trade wind sound may be based on a fusion of influences or the discovery of common ancestors, but it has enough sensual charm to put aside the question of influence and just enjoy a big, lilting melody that bounces between languages and rhythms."
Afropop

"Exceptionally vibrant, beautiful and infectious music… A very engaging Afro-Brazilian fusion and perfect for dancing."
MixedWorldMusic.com, NL