A shade of Ravel and Debussy blends with the sounds of the Pampas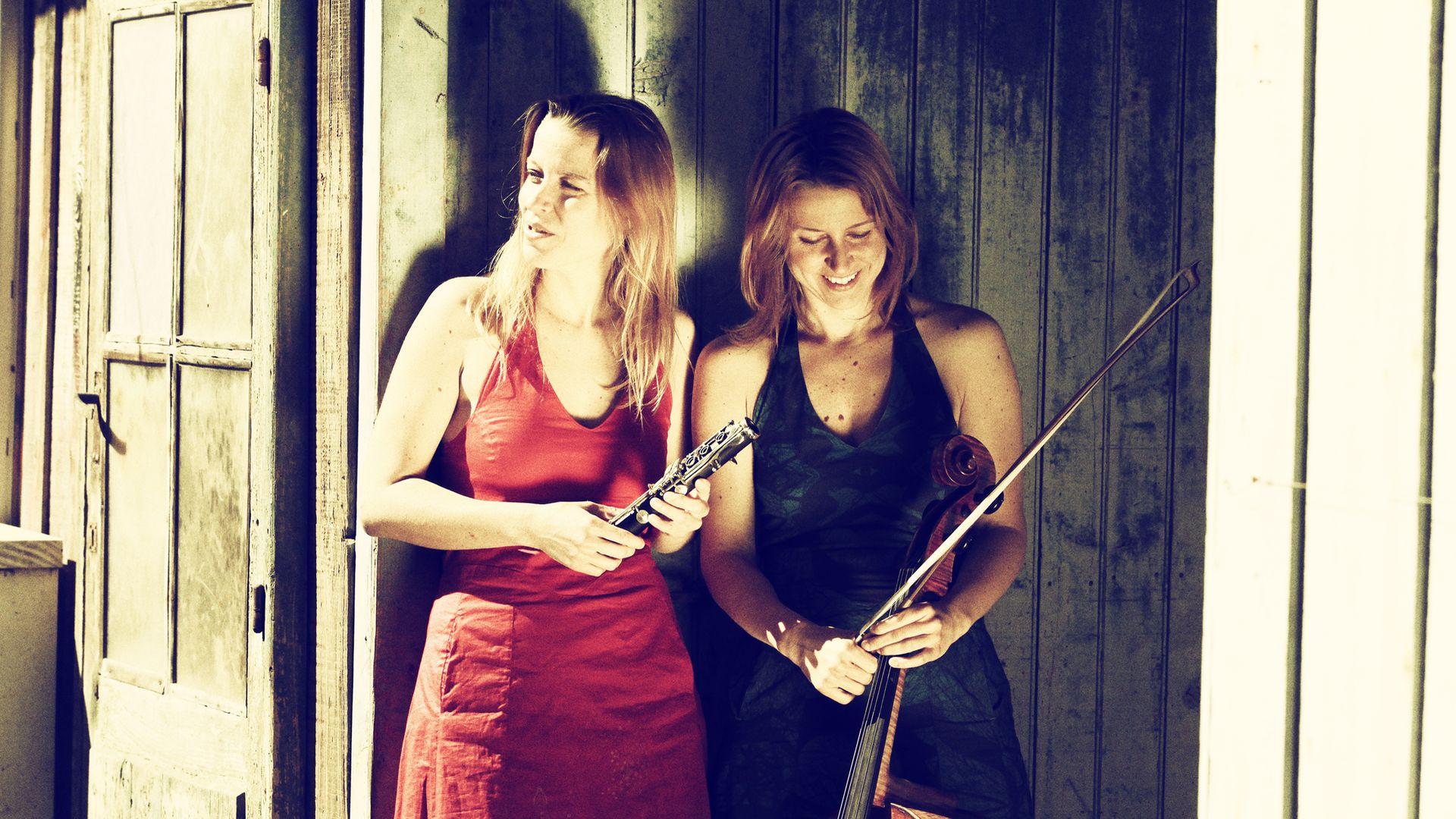 Live
New shows coming soon!
About
Las Hermanas Caronni are two Argentinian twin sisters, Laura and Gianna Caronni, respectively a cellist and a clarinettist, and both singers, who deliver on their albums some of the most delicate and intelligent music of the recent years. As a duet, their sound is full of intimacy, yet rich at the same time – due to the stunningly inventive, almost minimalist arrangements. The music sounds exactly like the sum of the artists' backgrounds: two classically trained musicians enamoured with their country's folk music. Shades of European Impressionism, of Ravel and Debussy, influences of the South American classical composers like Villa-Lobos, and the unavoidable ghost of tango, all blend perfectly with the melancholy and determination of the folk tunes of the Pampas. Clever, discretely sensual, and endlessly elegant, this is music for those who still cherish values like refinement and class.
Laura and Gianna Caronni were born into a family of Swiss, Italian, Russian and Spanish origins, where the music of Opera and Tango intertwined. They studied classical music and performed in the main concert venues in Argentina as members of the Academic Orchestra of Theatre Colón in Buenos Aires and various other classical and contemporary musical ensembles. In 1998 they moved to France where they first became known through their collaboration with Juan Carlos Cáceres, and where in 2011 their first duo album Baguala de la Siesta was enthusiastically celebrated by press & audience as THE discovery of the season, followed by Vuela in 2013. The sisters' third and latest album NAVEGAMUNDOS was released in 2015 reached nr.3 of the World Music Charts Europe in April 2016.
In March 2019 the sisters released their fourth album Santa Plástica: Based on classical motives by Ravel, Mozart, Bach oder Piazzolla they have created eleven pieces whose lyrics approach in a poetical way the burning issues of our times, such as pollution or gentrification. In addition to vocals, cello and clarinet they also use flutes such as the Basque Xistu or Southamerican Pincuyo, renowned jazz trumpeteer Erik Truffaz and British-Italian songwriter Piers Faccini featuring as special guests.
---
Line up
Gianna Caronni – clarinet, vocals
Laura Caronni – cello, vocals
---
Discography
2019 Santa Plástica (Les Grands Fleuves / L' Autre Distribution)
2015 Navega Mundos (Les Grands Fleuves / L' Autre Distribution)
2014 Baguala de la Siesta, Remix (Les Grands Fleuves / L' Autre Distribution)
2013 Vuela! (Les Grands Fleuves / L' Autre Distribution)
2011 Baguala de la Siesta (Snail Records/Coast to Coast)
---
Press
"…a wonderfully unexpected, spare joy…superb on every level."
fRoots (UK) on Navegamundos

"Two voices, a cello, a clarinet – that's all they need for their chamber musical reveries."
Kulturwelt, Bayern 2, DE

"This delightful album, being warm and melancholic at the same time, depictures the two faces of exile: the deep pain and the possibility to reinvent everything".
Libération, FR

"THE discovery of the season. Right after the programme we received an avalanche of emails and enthusiastic comments that carried this self-produced, almost anonymous CD on to another life."
France Inter, FR

"Their eclectic lyricism, evocative vocal harmonies and inventive stretching and recombination of cello and clarinet technique reveal a sublime poetic mastery that defies categorisation. … There is more unassuming passion, beauty and wisdom in these 13 tangos, canciones, chacareras, milongas and a closing baguala than many artists cab claim in a lifetime."
Folk Roots, UK