Il Signore del Folk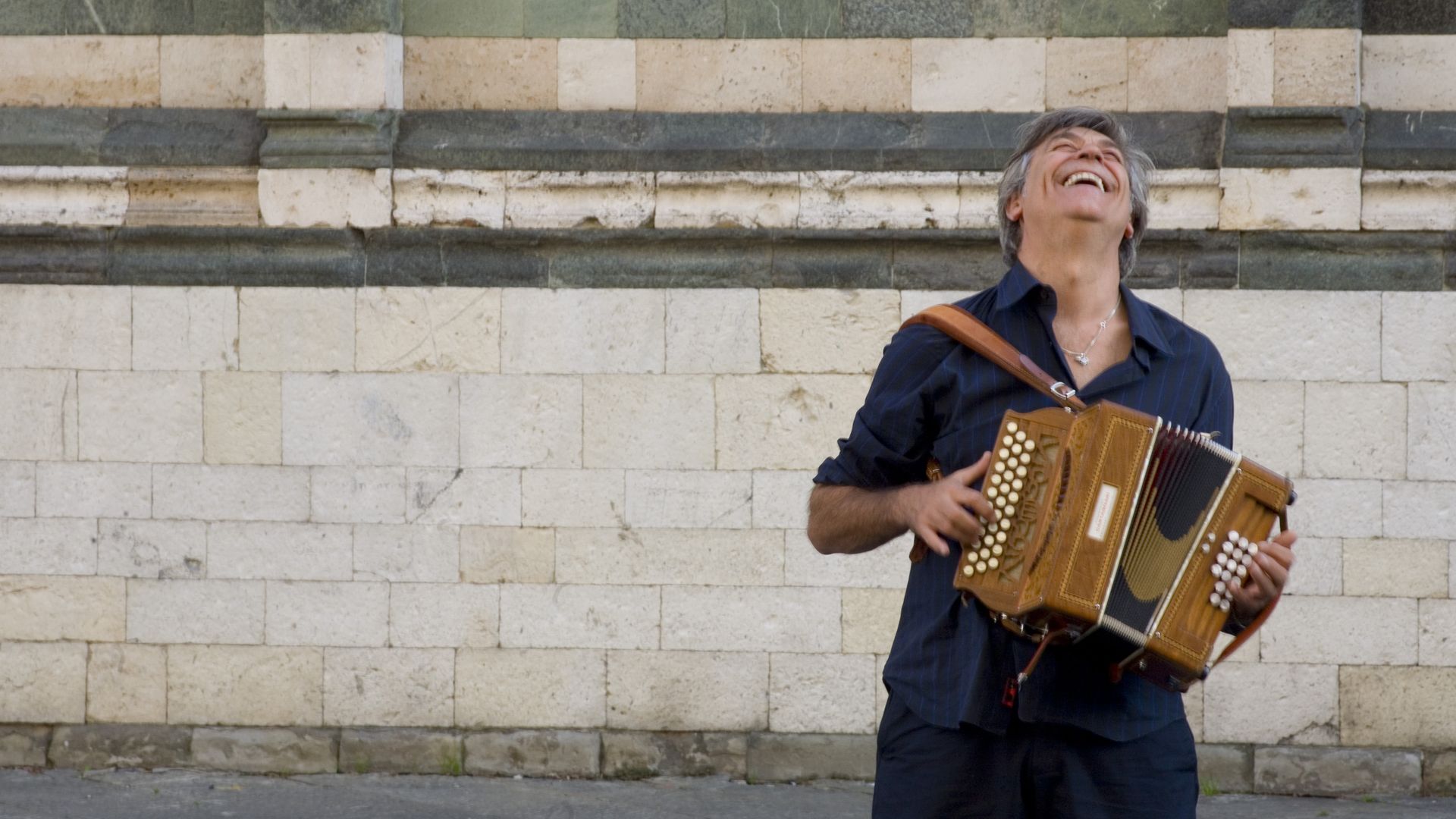 Live
10/08/23
Via Iulia Augusta
Kötschach-Mauthen
Austria
About
For more than 30 years Riccardo Tesi has been one of the most imaginative players of the organetto, the diatonic button accordion. As an ethnomusicologist he has explored the liscio, the waltz of his native Tuscany, the musical traditions of southern Italy, the Balkans, Madagscar, Africa or India as well as jazz or Nino Rota's film music.
With his longtime project Banditaliana he melts all those elements into a colourful, refined and easily danceable art music which nevertheles remains deeply rooted in Italian tradition. Tesi has collaborated with numerous artists of the Italian and European world and jazz scene (Elena Ledda, Patrick Vaillant, Gianluigi Trovesi, Gabriele Mirabassi, Gianmaria Testa ✝︎, etc), and in 2002 he was awarded the Voce d'Oro Prize at the Castelfidardo International Accordion Festival for outstanding achievements on his instrument.
The fresh and sunny music resulting from Banditaliana's kaleidoscope of sounds is regardless of categories, searching for innovation but sticking to its roots, as a wide synthesis of forms and rites drawn from the Tuscan tradition, Mediterranean flavours, jazz improvisation and songwriting. Original compositions, instrumental virtuosity, precious rhythmic grooves and refined arrangements represent the stylistic features of the quartet. Founded more than 25 years ago, they have achieved worldwide success while touring and regularly appearing at prestigious folk&jazz festivals in Europe, Canada and Australia.
---
Line up Banditaliana
Riccardo Tesi – accordion
Maurizio Geri – guitar, vocals
Gigi Biolcati – percussion
Claudio Carboni – sax
---
Current Projects
Duo Riccardo Tesi (acc) & Maurizio Geri (guit/voc)
Trio Riccardo Tesi (acc) – Maurizio Geri (guit/voc) – Gabriele Mirabassi (clar)
Quartet Riccardo Tesi & Banditaliana
Quintet Riccardo Tesi Cameristico
Sextet Riccardo Tesi Presente Remoto
Septet Bella Ciao feat. Lucilla Galeazzi, Elena Ledda, Alessio Lega etc
---
Discography (selection)
2021 A Sud Di Bella Ciao, Riccardo Tesi & Lucilla Galeazzi, Elena Ledda u.a. (Visage Music/Galileo MC)
2018 Argento, Riccardo Tesi & Banditaliana (Visage Music/Materiali Sonori)
2015 Bella Ciao, Riccardo Tesi & Lucilla Galeazzi, Elena Ledda u.a. (Visage Music/Galileo MC)
2014 Maggio, Riccardo Tesi & Banditaliana (Visage Music/Materiali Sonori)
2011 Madreperla, Riccardo Tesi & Banditaliana (Viavai/Materiali Sonori)
2010 Sopra I Tetti Di Firenze, Riccardo Tesi & Maurizio Geri (Materiali Sonori)
2007 Solo Organetto, Riccardo Tesi (Cinq Planètes/Felmay)
2007 Presente Remoto, Riccardo Tesi (Il Manifesto)
2006 Crinali, Riccardo Tesi & Claudio Carboni (Felmay fy 8114)
2004 Lune, Riccardo Tesi & Banditaliana (Il Manifesto CD140)
2003 Acqua Foco e Vento, Riccardo Tesi (Dunya Records)
2001 Acqua, Foco e Vento Live, Riccardo Tesi (VM301)
2000 Thapsos, Riccardo Tesi & Banditaliana (Il Manifesto CD063)
1998 Banditaliana, Riccardo Tesi (Il Manifesto CD028)
1995 Un Ballo Liscio, Riccardo Tesi (Auvidis Tempo A 6242)
1995 Un Ballo Liscio, Riccardo Tesi (Silex Y 225056)
1994 Colline, Riccardo Tesi, Gianluigi Trovesi & Patrick Vaillant (Silex Y 225048)
1993 Trans-Europe Diatonique, Riccardo Tesi, Kepa Junkera & John Kirkpatrick (Silex Y 225026)
---
Press
"A brilliant set of modern Italian folk with strong jazz and world music influences, mostly instrumental, but regularly interspersed with beautiful son."
Heaven 2 NL

"Accordionist Tesi, saxophonist Claudio Carboni, guitarist Maurizio Geri, and percussionist Gigi Biolcati are all utterly masterful musicians, and the world's their oyster. One can't produce pearls without grit, however, which here takes the form of subtle but pointed political commentary."
Straight.com, Canada

"…exciting arrangements breathing new and fresh life into the old songs. This is one of those albums that grows onto you when listening to it again and again – probably, because some of the arrangements are rather complex. I am now at a stage of loving this album, listening to it again and again, falling for the charming spell that this music has in it, and discovering each time new details. So an album not only of cultural interest, but also highly enjoyable."
Folkworld, DE

"Tesi has always been considered a master of his craft, a highly sought after session musician and a member of many of Italy's best ensembles over the years, but with Banditaliana he is firmly in control and shows that while craftsmanship counts, artistry is the real test. Tesi passes, 100%."
RootsWorld, UK